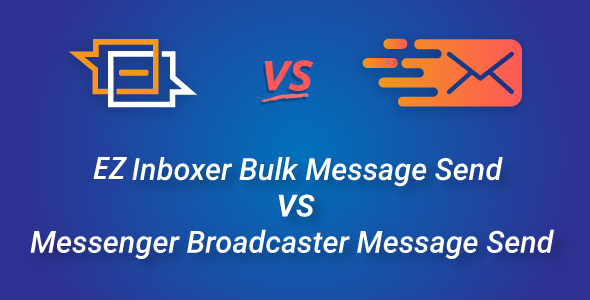 Facebook Messenger Marketing is now the latest marketing technology which is becoming the best alternative of Email marketing day by day.
As you know, with EZ Inboxer, you are able to send messages to all messenger subscribers. You can send to all old & new messenger subscribers.
(Messenger subscribers for EZ Inboxer are who are already in a conversation with your page. Example: they sent your page a message or your page sent them private reply)
 
An BOT Inboxer add-on called Messenger Broadcaster is also used to send messages to Messenger BOT subscribers.
So it may bit confusing that why you need this two or which I can avoid to use.
I am going to describe that why the both option are very necessary for your messenger marketing and with these both sending options how you can utilize your internet marketing strategy in different ways for different purposes. Let me describe how & why.
As most of you know Facebook Messenger platform doesn't allow to send promotional message. So with Messenger Broadcaster, you are not permitted to send promotional content to Facebook messenger (https://developers.facebook.com/docs/messenger-platform/policy/policy-overview)
Even with other BOT service like Manychat, chatfuel who use the BOT API to send message, you are not allowed to send promotional content.
So what's the solution?
EZ Inboxer Bulk Sending:  EZ Inboxer bulk sending is essential tool when it needs to send some promotional content. EZ Inboxer bulk sending use different API. It doesn't use Messenger BOT API. It's using Conversation API. For conversation API, there is no restriction of sending promotional content like BOT API. We are the first who implemented this Conversation API to send Message which can be unbeatable weapon for your messenger marketing. No tool like Manychat, chatfuel provide this feature. So what you can send through this EZ Inboxer Bulk Message Sending?
Example: You are launching new product. You want to inform your messenger subscriber about your new launch. You want to give an Early bird price for your launch. In this case EZ Inboxer bulk sending is very handy.
EZ Inboxer bulk sending is a bit slow. You must use good delay during sending, for large number of subscriber you must use 25-30 seconds delay or higher for your safety. But I think that's not a problem as at least you can send the promotional message. It may bit slow but it's going to your messenger subscriber. You just need to set the campaign & EZ Inboxer will send one by one. So in no way you can avoid the power of EZ Inboxer Bulk Sending.
There are different method is used to send promotional content like in 24 hours window after anyone send message to your page's messenger. You can use Messenger Broadcaster to send non-promotional message, then if anyone reply to this message or click any action button, you may set promotional content for that. Other BOT service like Manychat, chatfuel have also implemented this strategy. But in this case, you need to wait for the user's interaction. If the user doesn't reply, you can't send. But with EZ Inboxer bulk Sending, you are able to send all your messenger subscribers as there is no restriction from Facebook for Conversation API.

Another important thing is comment on page's post. With EZ Inboxer not only you can reply & private reply for post's comment but also when page is sending private reply to the commenter, he is going to be added in EZ Inboxer Messenger subscriber list. But will not be added as BOT subscribers until he reply. So this is very much useful that you are able to send message through EZ Inboxer bulk sending to this users who got private reply from comment.
But keep in mind that with EZ Inboxer bulk Sending, you can send only text message, you may send link with your text.
Messenger Broadcaster: 
Messenger Broadcaster uses the BOT API like all others service like Manychat, Chatfuel. Messenger Broadcaster also have two option to send message. In item description page, you will get the explanation about these two options.
First the Quick Broadcasting is a very new technology by Facebook. No other service doesn't provide this feature. We are the first to implement it. You can send to all existing leads in your page's messenger with one shot with BOT API with in few seconds or maximum minutes. Other service only provide option to send message to those subscribers who messages after implementing their BOT. In this case Quick Broadcasting with Messenger Broadcaster is very helpful. You can send to your old leads also. This is very fast sending. Within few minutes you can send 100k leads. But you are not permitted to send promotional content with Messenger Broadcaster. It's policy violation of Facebook Messenger Platform. But you can yet follow the strategy to send promotional content when users reply your messages.
So Messenger Broadcaster is useful when you are going to send non-promotional messages. And you can send with in few seconds or minutes. Also this allow you to send image, video, template message, carousel message, button, quick reply etc. Means all BOT option.
There is other option to send to only users after implementing our BOT for your page. This is useful when you may want to track the open rate of your campaign. For this sending, message open report is collected.
In conclusion, you may find it redundant of multiple sending option at the first, but now you know these all are very important. Just depends on your use cases. If you are willing to send bit promotional content, use EZ Inboxer bulk Sender. It's slow but use it to send promotional content with delay. If you need send non-promotional message within minutes to all, use Messenger Broadcaster.