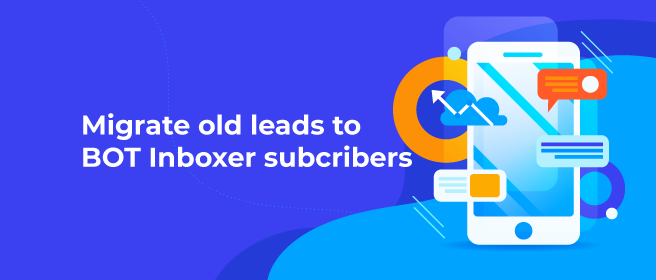 We are gladly informing you that Facebook has brought few changes and it becomes fortune to us. From now, you can migrate your old leads that you have achieved through using manychat or chatfuel or other services.  In EZ Inboxer , that feature was from starting. EZ Inboxer can work with all old leads of your page's messenger. From there you can send message but slowly.

BOT subscribers are those who give message & get reply from bot after enabling bot from BOT Inboxer. But good news is, now you can migrate your old leads from EZ Inboxer into BOT Inboxer subscribers. That's really a big option opening for you. Just think about that you have thousands of leads on your pages and surprisingly these leads becomes your messenger bot's subscriber. Bang.
To migrate your leads you must have BOT Inboxer add-on installed.
 Follow this :
     1. "Facebook Lead" menu
     2. Then "Import Lead" and click it.
     3. Find the page click the "Lead List" button.
     4. A pop-up page will come in front of you. Just click the "Migrate lead to Bot" button. After confirming within few seconds or minutes (depends on your leads amount & server) your leads will be migrated as messenger bot subscribers.




You can migrate these leads anytime from EZ Inboxer , after enabling bot from BOT Inboxer.

After migrating the subscribers, list will be inserted in BOT subscriber list without First Name, Last Name.  You have option to update profile by clicking button besides each subscribers.

Also there is a Cron job to automate of updating First Name, Last Name. Cron job will update these migrated list's profile.





Now your Messenger BOT Subscriber list is ready. You can add label to them but manually or send with Subscriber Bulk Broadcast.

See the instruction video here




Cheers :)