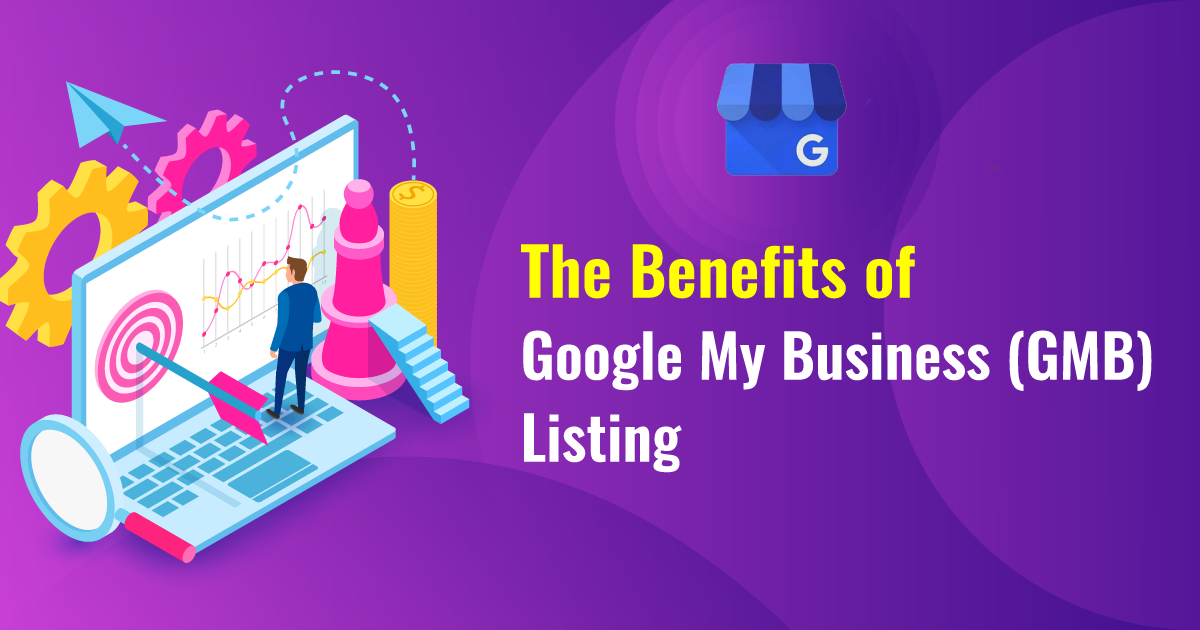 Google My Business is a free tool from Google to grow your business- you needn't pay to use it. With the free tool, you can create and edit your business listing. To do this, you don't have to do any extra work on your website. And you can use Google My Business to decide how your business would show up on both the Google search page and Google Maps.
Sometimes the searchers have trouble getting proper information about the things they are searching for. And Google My Business comes to help both the searchers and business owners. With the help of Google My Business (In short GMB), searchers can easily find the information they are looking for- your business address, opening hours and contact information that would appear on the search page. Thus, customers can find you and contact you without going any further. Knowing this information, people can envision what you have in your business, and they feel like contact and visit your business.
 
"xerone it" keyword search on Google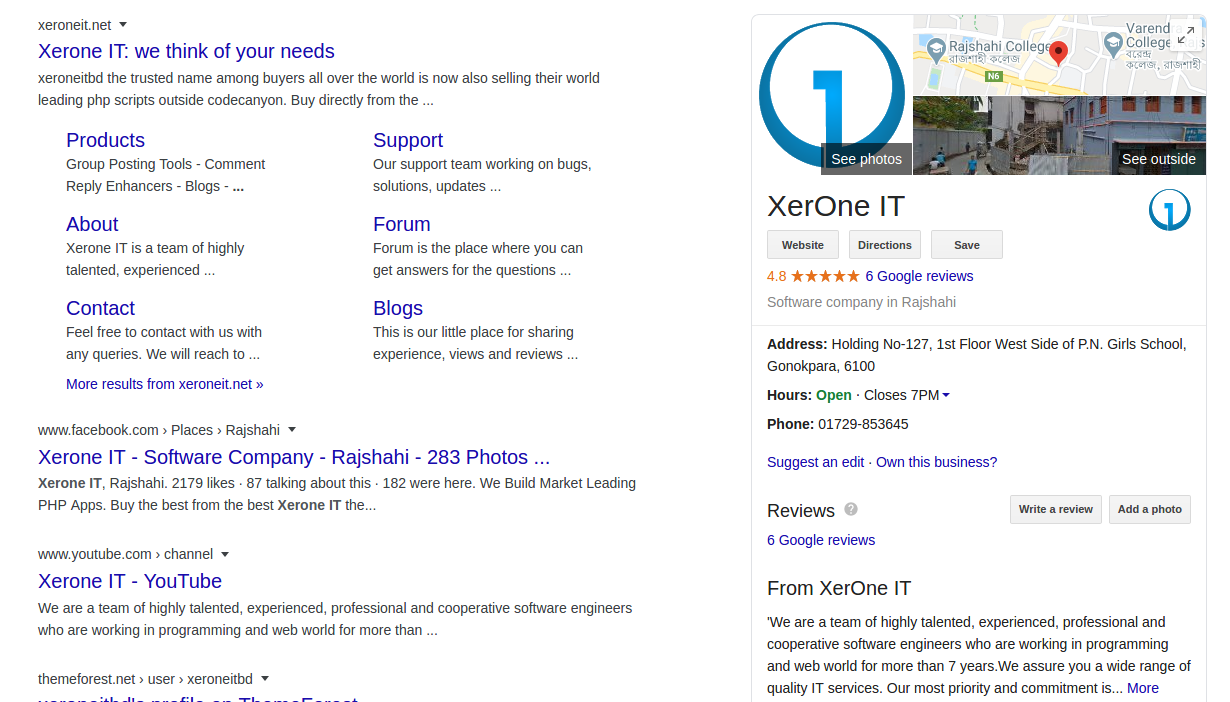 Google takes your updated data from your Google My Business listing and provides answers to exact queries such as "Restaurant near me." Thus, the people who need the product or service can find your business easily.
You may have already noticed the three-packs when you have searched something on Google. The business information is gathered from Google My Business listing of these businesses. By setting up your Google My Business, you can easily be featured in the three-packs result. If your business name appears in the Google search page, clients see that Google has trust in you. As a result, they also trust you and become eager to buy your products and services.
Besides, Google My Business offers other tools to help you attract would-be clients. You can add your product lists, prices, payment methods and photos of your products. You can also post special offers for your clients, and these posts are CTA posts that make the customers' engagement with your business easier. Sometimes, the content of your post would be displayed on the search result. And by seeing the posts on the search pages, people would be attracted to your business.
Offer posts from Xerone IT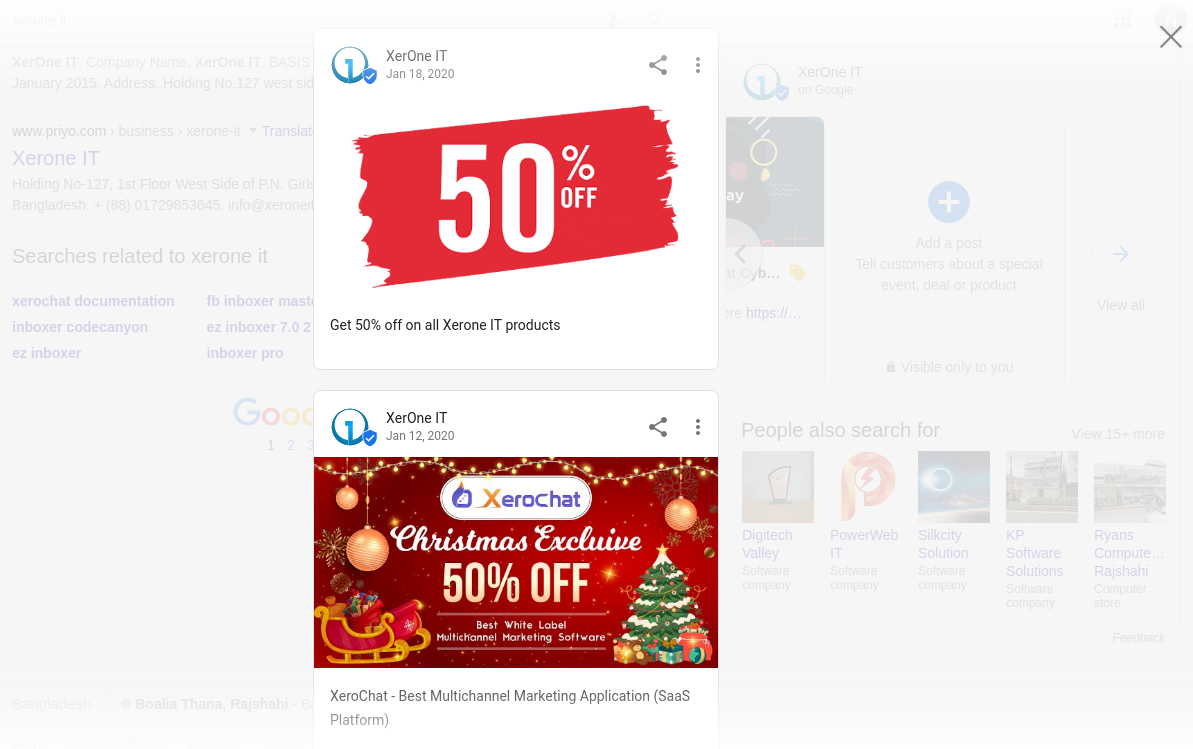 Call-to-action posts from Xerone IT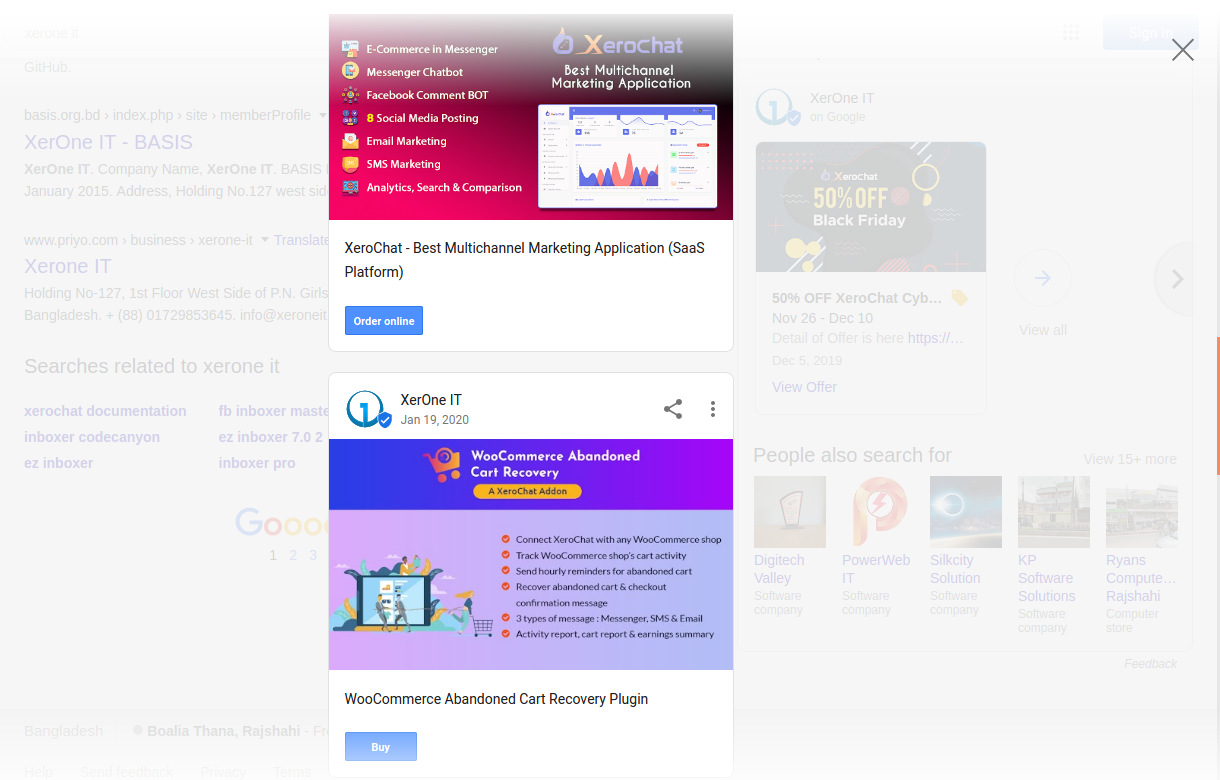 One of the greatest elements of Google My Business is the review system. Your customers can post reviews about your products and services. And the review is the thing customers use to make their decision whether to buy or not, for we trust other people's views and opinions about a product or service. Excellent and glowing reviews from your clients will improve your business and therefore your would-be customer will visit your websites and buy products from you and in turn, your business will bloom. Moreover, people can book your service through your Google My Business.
Customers' reviews for Xerone IT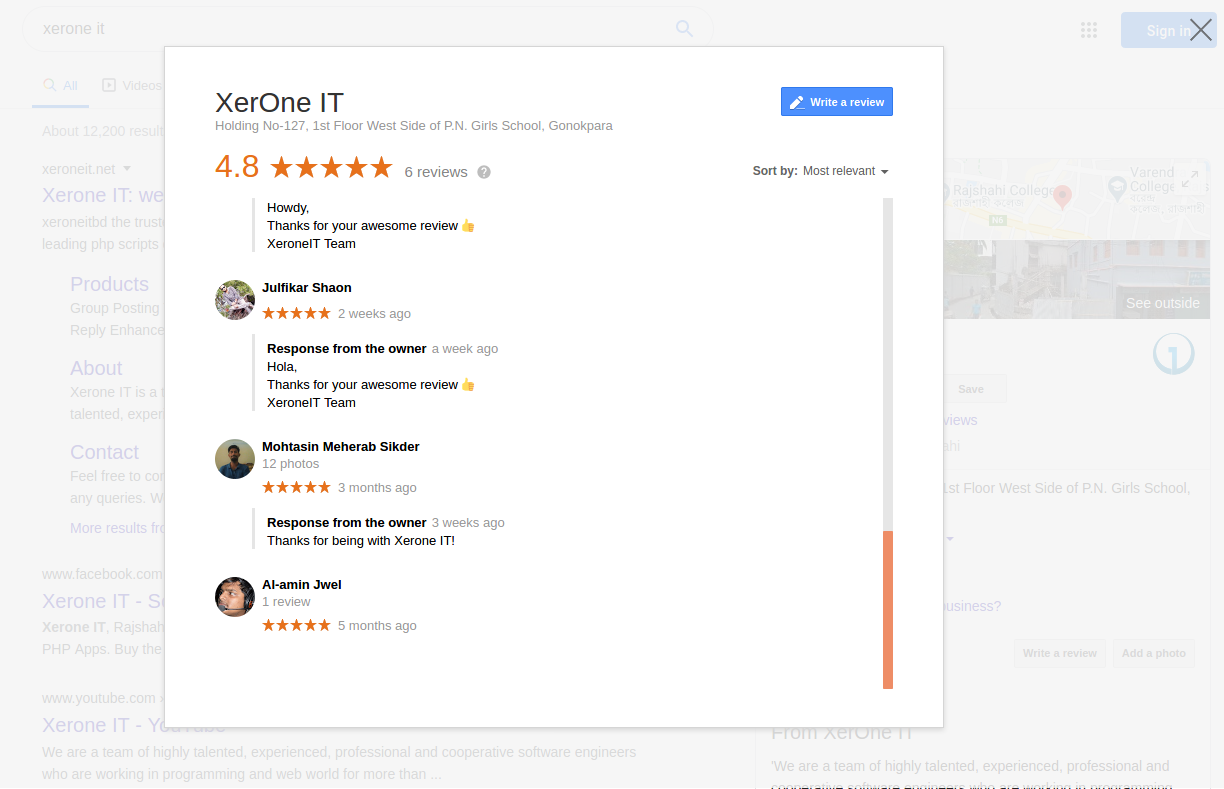 To get all benefits from Google My Business, you have to provide up-to-date and detailed Google My Business listing. If you don't, you will fail to catch a certain way of appearing in the Google search result.
If you haven't already created your Google My Business listing, we recommend you do it now, please. You should take the opportunity to engage more customers and grow your business. It's very simple and easy. You need a couple of minutes to set up your basic Google My Business listing. To get more benefits from Google My Business, complete your listing and keep them up to date.
The Highest Usage of Google My Business with XeroBizz
Xerone IT, a leading software firm, comes with a full-featured management software called XeroBizz which allows you to run your business in accordance with Google My Business comfortably and effectively. XeroBizz is very smooth, so you can use the XeroBizz with an easy-to-use interface. With the XeroBizz, you can increase the usages of your Google My Business to the highest level and obtain the maximum benefit from it. XeroBizz allows to monitor the up and down of your business and thus, help you to make the right decision. To take your business to the potential customers, unique features of XeroBizz will play an important role.
XeroBizz has two licenses: Regular and Extended license. With the extended license, you can rebrand the XeroBizz and sell its service to your end-users. Two payment methods, PayPal and Stripe, are integrated with the software so that you can easily take payment from your end-users.
To use XeroBizz, you have to install it on your server. But if you don't want the hassle of installation, app creation or verification, you can take Xerone IT's hosted service at a low cost. With the service, you just have to log in, and your XeroBizz will automatically be installed on Xeron IT's server.
Now enjoy the XeroBizz and reap the maximum benefit from Google My Business.