Bots in marketing assist you by automating the top of your sales funnel. There are several instances of different areas where they might be useful. A Chatbot may automatically respond to client enquiries and provide them instructions, and here is where chatbot shine the greatest.
Bots are the robotic revolution's artificial face. They make the whole thing more compassionate, familiar, and enjoyable. Most significantly, they are tireless workers that provide assistance when your clients require it. So, what is the difference between a marketing chatbot and a regular bot? A marketing chatbot handles certain marketing duties, adds a human face to your sales funnel, and is constantly available to consumers in times of need.
Client interaction must be rapid, whether it's for sales, promotion, or support. Clients will never return if your business does not deliver a pleasant experience. This is where AI-powered chatbots may make a significant impact by automating customer communication and augmenting service significantly. In fact, the majority of customers want more businesses to employ chatbots to strengthen their communication strategy and provide a better experience. With so many chatbot business benefits to accomplish, you should aim to automate customer interactions and provide a hassle-free customer experience at every step of the way right now.
Benefits of ChatBot for Users:
The desire to be present at all times is at the heart of chatbots' rising appeal across businesses. And, if your company wants to engage clients around the clock and enhance their overall experience, it must utilize a bot at some point. This will assist handle consumer demands with rapid replies and increase customer satisfaction.
Chatbots are fairly advanced, and they provide several benefits to clients.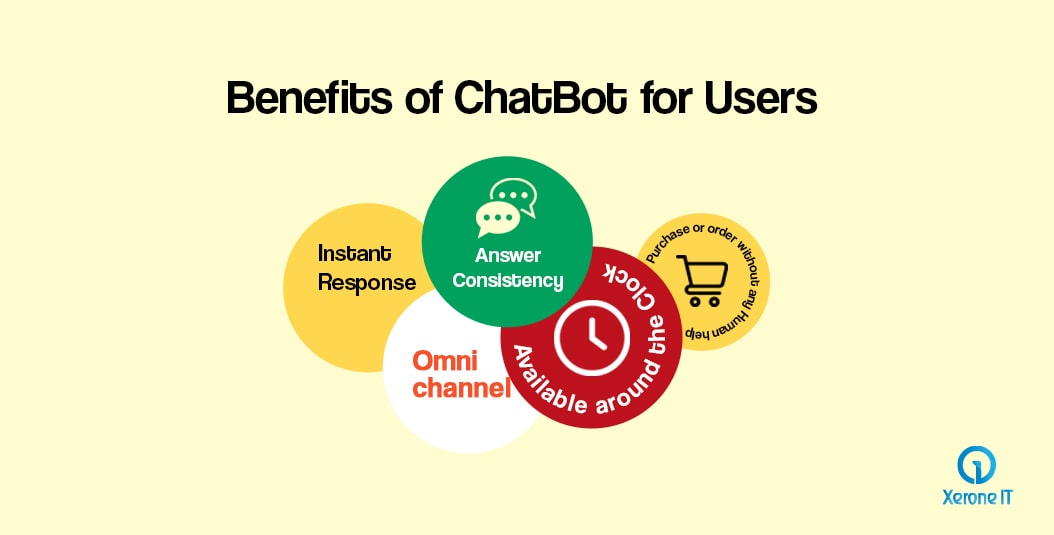 Available around the Clock – When chatbots are part of the communication strategy around the clock, customers don't have to wait for the next available operator. Instead of waiting for an agent they will get prompt response from the bot and guideline.
Instant Response – Chatbots are able to manage the enquiries of thousands of clients simultaneously and immediately, improving the average response time.
Answer Consistency – The adoption of chatbots may assist organizations in maintaining a high degree of consistency in replies and improving the consumer experience with the company.
Omni-channel – AI-powered chatbots include omni-channel communication support features that permit customers to engage with businesses over several channels such as Facebook Messenger, WhatsApp, Telegram, Instagram DM, and so on.
Personalization –By engaging clients in one-on-one discussions, keeping a natural-sounding tone, and being skilled at interactive communication, bots may provide a touch of personalization.
Purchase or order without any Human help – Customers may book orders or conduct transactions without the assistance of a human being thanks to bot-driven automation.
Benefits of ChatBot for Business:
When it comes to building strong client connections, chatbots may be a very beneficial tool. By engaging and communicating with website visitors, your company may utilize it to develop strong ties. Chatbots may help you reach not just marketing goals, but also enhance sales and improve customer service.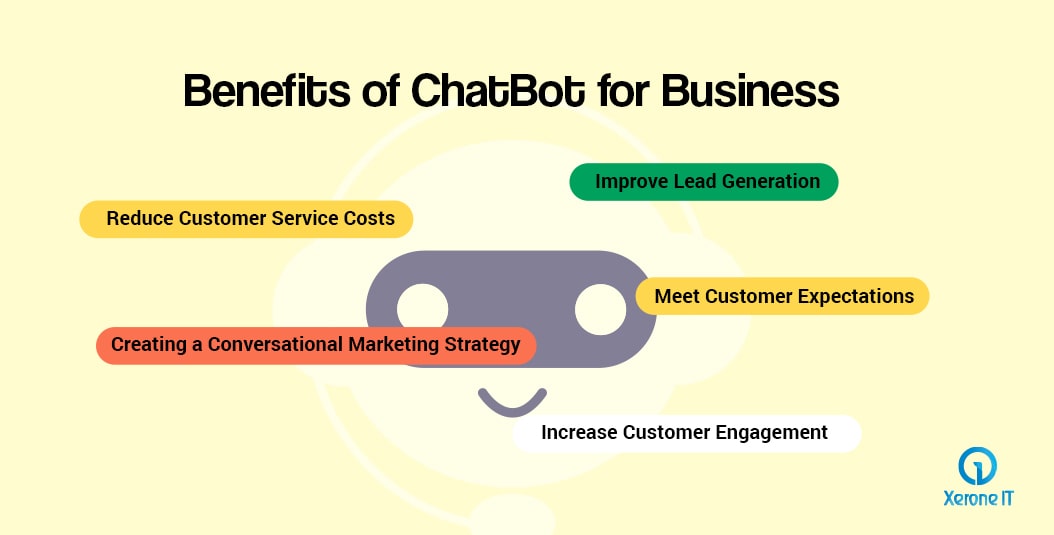 1. Increase Customer Engagement
Chatbots can help companies in increasing consumer engagement.
User data may generate engagement, which can be enhanced by implementing interactive AI chatbots.
Furthermore, bots may provide consistent responses, which helps you avoid providing useless information to clients.
And when customers receive appropriate and timely replies, they are more likely to stay on your website and continue the discussion.
2. Improve Lead Generation   
Bots are becoming highly advanced and successful at engaging customers with customized content throughout their path.
In reality, your company may utilize chatbots to generate leads and help clients in making rapid decisions.
AI bots can employ a pre-programmed questionnaire to convince visitors to become leads and increase conversion rates.
3. Reduce Customer Service Costs
Implementing a chatbot is an investment in decreasing customer service costs.
Investing in chatbots helps you to save revenue that would otherwise be invested on employing additional support staff.
Chatbots may help a company save money in a variety of ways:
Salaries
Training
Infrastructure
Likewise, AI chatbots in customer support may help in several ways.
Increase their chat help during peak hours.
Routine business operations should be automated.
Allow for new customer service models.
Furthermore, chatbots may be scaled during busy business hours at no additional expense.
4. Creating a Conversational Marketing Strategy 
Conversational marketing is the process of utilizing the ability of real-time consumer interactions to move prospects along the sales funnel.
It might help your company create unique experience and establish customer relationships.
When organizations utilize chatbots for marketing, they can effortlessly interact with individuals through customized messaging and intelligent chatbots, increasing conversion rates.
5. Meet Customer Expectations  
Customers want prompt replies to problems or inquiries.
Because chatbots are getting smarter, businesses may be able to employ them to automate some routine interactions and meet customer expectations. Whether you employ an Android chatbot or WhatsApp, the goal is the same: to provide value to clients through automation.
Customers will not have to wait for human agents to engage with automation as one of chatbot use cases, which will improve their experience with the business and contribute to retention.
Implementing Chatbots:
The first question that arises while establishing the chatbot is where the chatbots should be implemented. There are several instant messaging options on the market, such as Facebook Messenger, WhatsApp, Telegram, Instagram DM, and so on. And the vast majority of people who have internet access use these.
Implementing the chatbot on instant messaging platforms would be the best technique. We may accomplish this by utilizing third-party software such as ChatPion, BotSailor, and others. These chatbot service providers provide a variety of marketing tools in addition to chatbots. They provide complete ChatBot Marketing solutions.