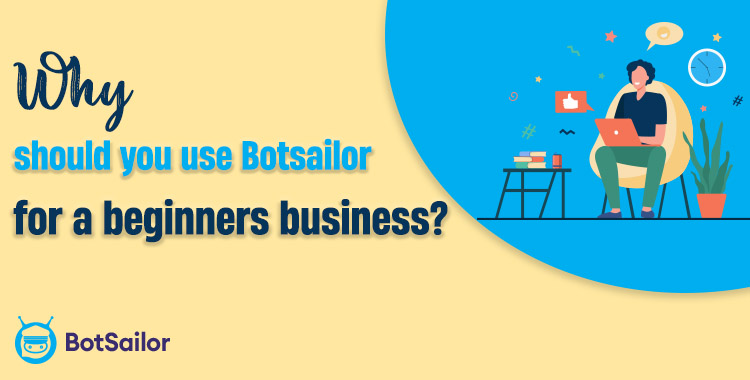 Starting a beginner's business requires careful planning, determination, and a clear understanding of your goals. Starting a business with a small budget can be challenging, but with the right approach and a clear plan, it is definitely possible. If you want to establish a Software business, you have to know what you need for the business. And if you don't know, you are in the right place.
In this article, I will discuss why you should use Botsailor for a beginner's business with a small budget.
Telegram & WhatsApp are popular messaging apps with a platform that allows developers to create bots. Bots can automate various tasks and interact with users, making them useful for businesses to engage with customers, offer support, and provide information.
User friendly: Bot development platforms like BotSailor may offer a user-friendly interface, making it easier for beginners with little or no coding experience to create and manage their bots. These platforms often provide drag-and-drop functionality or simplified workflows. BotSailor is user-friendly and easy to handle. On the Flow Builder of BotSailor, you can easily build Telegram & WhatsApp bots. First, with the help of BotSailor, you have to create a bot token. Then, you have to connect the bot with Botsailor by providing the bot token to the BotSailor. After connecting the bot with BotSailor, you have to develop the bot on the Flow Builder by dragging and dropping.
Multimedia messages: Telegram & WhatsApp bot built with BotSailor can reply to customers' queries with multimedia messages – Text, image, audio, GIF, video, and file. Like other Chatbots, of course, it is 24/7 available.
Telegram & WhatsApp bots also support other rich UI elements like quick replies, buttons, and cards. Besides these features, Telegram & WhatsApp bot has Commands and Inline Queries.
Sequence messages: Telegram & WhatsApp bot built on BotSailor can send sequence messages to subscribers. Sequence messages could be sent at scheduled times. Different sequence messages could be sent based on the user responses. That is, it can deliver alternative sequence messages to different users based on the users' reactions. There are two types of sequence messages – hourly and daily. You can set up a sequence messages campaign that could be sent every minute/hour or every day.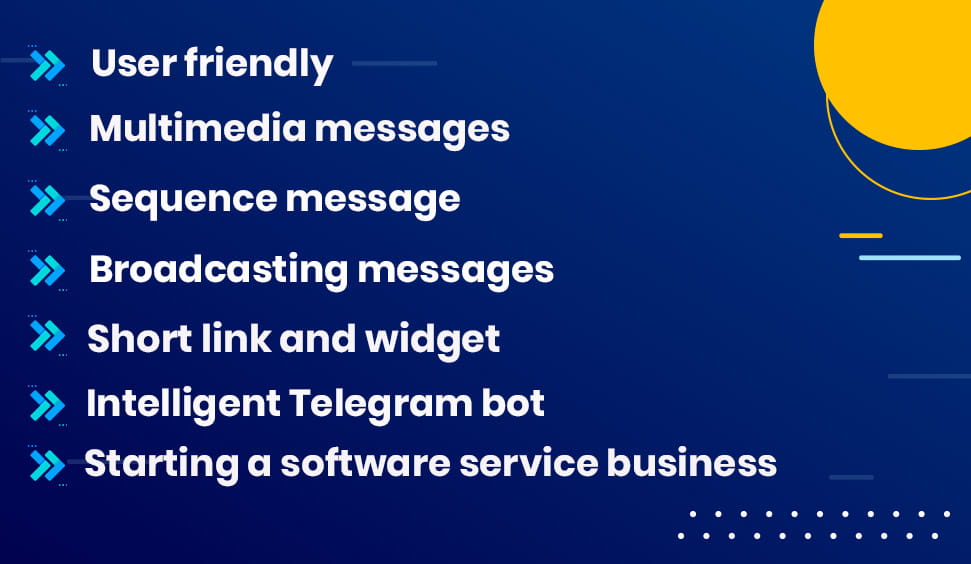 Broadcasting messages: Telegram bot built with BotSailor can send promotional broadcasting messages to the subscribers of the channel without time-wise limitations since the 24-hour rule doesn't apply to Telegram Channel. The bot can send promotional broadcasting messages instantly or at scheduled times. Telegram Channel can have countless subscribers, and the Telegram bot can send broadcasting messages to all of the subscribers of your Telegram Channel. Since Telegram is an instant messaging app, the opening rate of promotional broadcasting messages is far higher than email.
Short link and widget: Telegram & WhatsApp bot built on BotSailor also provides Short links and widgets. And the short link and widget could be shared on websites and social media and by email. Just as a user click on the widget or short link, the user will be redirected to your WhatsApp channel and will receive a message from the Telegram bot. As a result, the user will become a subscriber to your Telegram Channel. In this way, using the short link or widget, you can earn subscribers for your channel. In one word, a short link or widget is a great tool to earn subscribers for your channel.
Intelligent Telegram bot: With the BotSailor, you can develop a condition-based intelligent smart bot. Based on the users' data, it can take decisions. The intelligent bot doesn't disturb people by sending messages randomly. Instead, it sends the right message to the right people.
Starting a software service business: You can also sell the service of the BotSailor to your end-users and take payments from them. That is, you can start a software service business with Botsailor. In this case, you have to buy the Botsailor White Label Reseller package. And if you are interested in the BotSailor White Label Reseller package, you just need to purchase a domain name and nothing else.
Botsailor for a beginners business with small budget:
Cost-Effective: Botsailor development platforms can be more budget-friendly compared to custom development. Many of these services offer affordable pricing plans, making them suitable for small businesses with limited budgets.
Quick Deployment: Using a Botsailor development platform can speed up the development process, allowing you to deploy your bot and start engaging with customers faster.
Pre-Built Templates and Features: Some platforms provide pre-built templates and features that can be easily customized to suit your business needs. This can save time and effort in building basic BotSailor functionalities.
Customer Support: Reputable bot development platforms often offer customer support, which can be helpful for beginners who may encounter challenges during the BotSailor development process.
Scalability: While starting as a beginner, you may want a bot platform that allows room for growth as your business expands. Some platforms offer scalability options to accommodate increasing bot interactions and users.
Integration Capabilities: Check if the platform allows integrations with other tools and services you use in your business, such as CRM software or e-commerce platforms. Integration can enhance the bot's capabilities and data handling.
Security and Privacy: Ensure that the platform adheres to industry security standards and takes measures to protect user data and privacy. Trust and reliability are essential when dealing with customer interactions.
It's essential to research and compare different bot development platforms, including Botsailor, to see which one aligns best with your business requirements and offers the features and support you need. Additionally, since technology and platforms may have evolved since my last update, it's a good idea to check for the latest user reviews and recent developments related to Botsailor or any other bot development service you consider using.
Conclusion: Developing a Telegram bot on the Flow Builder of BotSailor is super easy and straightforward. The Telegram bot can work as a customer care service for your business by replying to queries from customers 24/7. And when a customer gets instant replies to their queries, they become happy. And a happy customer is more inclined to buy products from your business.
Besides, it can also do the marketing for your business by telling the people about your business, the quality of your products, and announcing different events, especially starting and ending of the Sales you run. Of course, you can use the leads collected by the Telegram bot to do different types of marketing.
It is now the most popular Messaging platform next to Facebook Messenger, Instagram DM, and WhatsApp. However, all these Facebook staff has limitations to broadcasting messages, such as a 24-hour rule that prohibits bulk sending. Telegram does not have that limitation. Now we can remove this limitation from WhatsApp also. We can also send in WhatsApp within 24 hours through the WhatsApp message template if WhatsApp is approved. That is why telegram is better suited to broadcasting. Let`s not limit our responses to email marketing. We should also build alternative lists to broadcast. We can do so using Telegram. The open rate in telegram is more than 80%.
In one word, you can flourish your business by using BotSailor, a free WhatsApp and Telegram bot-building platform.